Robyn Announces her upcoming New Album Honey
CREDIT: Andrew H. Walker/Getty Images
Robyn has announced her highly-and-long-anticipated eighth album Honey. In a message posted to social media, the singer confirmed that the album will be out on October 26 via her imprint Konichiwa and Interscope. "It's a personal album," Robyn said in her video statement. "And there are so many things that have happened throughout making it that it's really just hard for me to explain it in one go."
In a press release, she also described the album as "this sweet place, like a very soft ecstasy. Something that's so sensual, and so good. I danced a lot when I was making it. I found a sensuality and a softness that I don't think I was able to use in the same way before. Everything just became softer."
The singer also included a link to sign up for her mailing list to get early preorder access for the album. The album will include her recent single "Missing U," which she first previewed in a short film, as well as "Honey," a song which was debuted in an early version during an episode of Girls last year. Robyn's collaborators on the album include Klas Ålund, Metronomy's Joseph Mount, Kindess' Adam Bainbridge, Mr. Tophat, and Zhala.
Robyn's last full-length was 2010's Body Talk. The singer posted a casting call for an upcoming music video earlier this month. Check out the cover art for Honey below, and get on Robyn's mailing list here.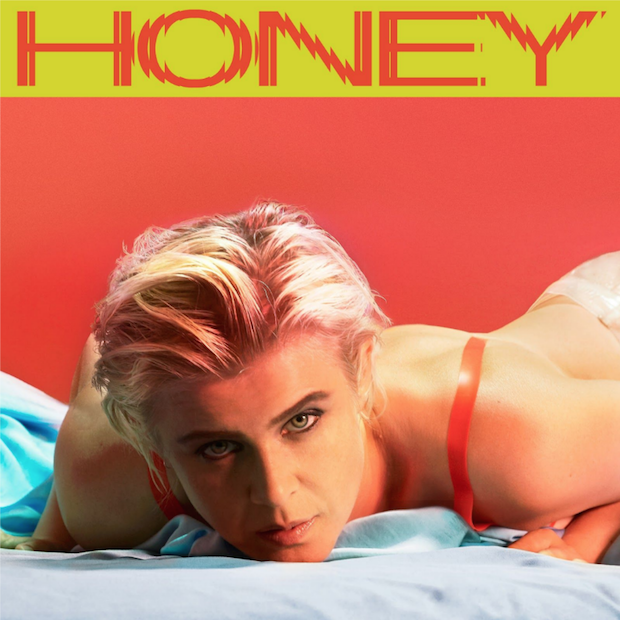 My new album Honey will be released on the 26th of October, sign up to pre-order and pre-save here https://t.co/iZU9YaHRKc pic.twitter.com/3SSztu4uyC

— Robyn (@robynkonichiwa) September 19, 2018
Related Article
Comment
.....................
Please
LOGIN
or
REGISTER
To Gain Full Access To This Article